Double opt-in process
From Sendcockpit
General
In the double opt-in method, registering for the subscriber list has to be confirmed in a second step. An e-mail is sent to the registered address, asking for confirmation. If this is a real registration, i.e. a proper opt-in request, the subscriber receives a confirmation of the details they provided. If, however, the registration was done without their knowledge or incorrectly, involuntary subscription candidates can protect themselves against being entered in the subscription list. All they need to do is ignore the confirmation request.
Settings
Configuration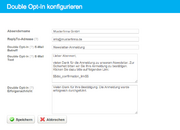 To configure the opt-in process and, for example, adapt the contents of the confirmation message, do the following:
In the main menu click on Subscribers.
Select the receiver list you want.
Click on the Opt-in tab.
Select Configure Double Opt-in.
Activation
The double opt-in procedure can then be activated for any registration form in the selected group.
To do so, click on the Subscribe form tab in the receiver list.
Select the subscribe form for which you want to activate the double opt-in. Alternatively, you can also create a new form now.
Then click on the Opt-in Settings tab.
Select Activate Double Opt-in.
See also