Modify existing templates
From Sendcockpit
General
You can create templates based on existing templates. This lets you adapt our standard templates to your own requirements.
| | |
| --- | --- |
| See here for info on how to create a completely new newsletter template. | |
How it works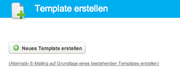 Click Account and then click on the Mailing Templates tab.
Select Create New Template.
Select the function Create template on the basis of an existing template
Next, select one of our standard templates and make any changes you like.
Test sending
| | |
| --- | --- |
| You should definitely test sending the mailing to the main desktop and freemail clients. | |
See also